After having a crappy day at work, I was surprised with an awesome valentine's dinner prepared by Mrs. SOB.  Now I will turn it over to Mrs. SOB to explain how she made this wonderful meal......
Hello all!!  We are trying to eat healthier, so I decided to try to use some heathier ingredients in making our valentine's dinner.  I made individual heart shaped Turkey Meatloafs (Made with ground turkey, whole wheat bread crumbs, eggs, spaghetti sauce, garlic powder, hickory salt, pepper, and italian seasoning).  I used a large heart shaped cookie cutter to shape the meatloafs (put cookie cutter on parchment paper then packed in the meatloaf mixture, lifted cookie cutter off and lifted meatloaf off parchment paper and into pan). Baked in oven for 45 minutes at 350*.  Then added a little more spaghetti sauce to the top and sprinkled with parmesan cheese.   We also had fresh asparagus and red potatoes steamed in our new steamer.  I added some potato topper seasoning to the veggies.  Voila, a fairly healthy dinner.
Oh, don't forget the desert......  Fresh fruit (Honeydew and Canteloupe Melon with Green Grapes and Kiwi) topped with a Chocolate Covered Strawberry!  Gotta have at least a little bit of chocolate for Valentine's Day!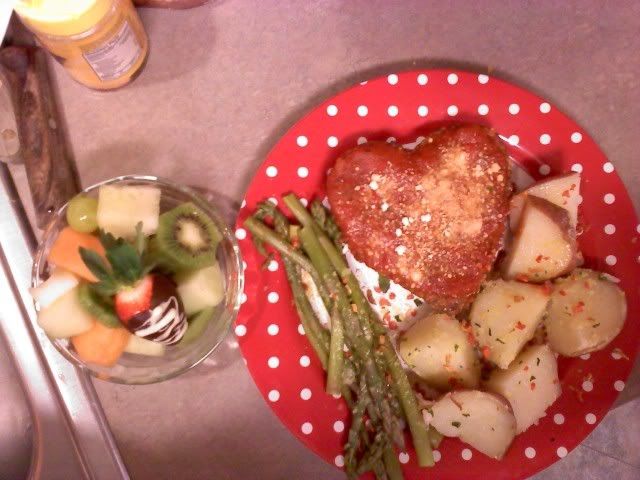 I stopped at our local grocery store and they wanted $9.95 for 5 chocolate covered strawberries!!!  No way was I paying that!!!  So, I went home and made my own!!!  Here is what was left after SOB, the Little SOB's and myself had a few with dinner.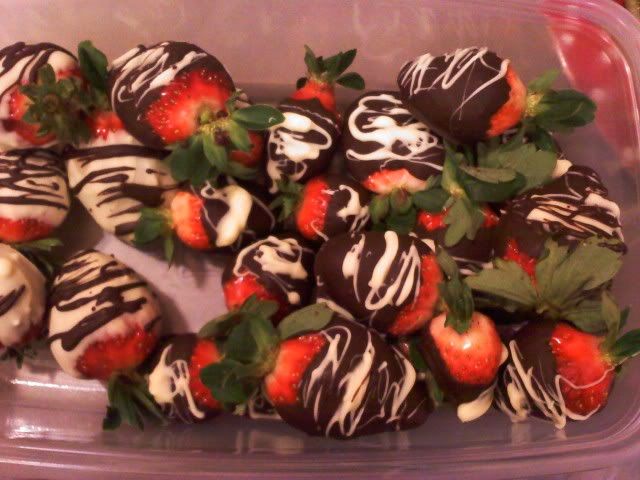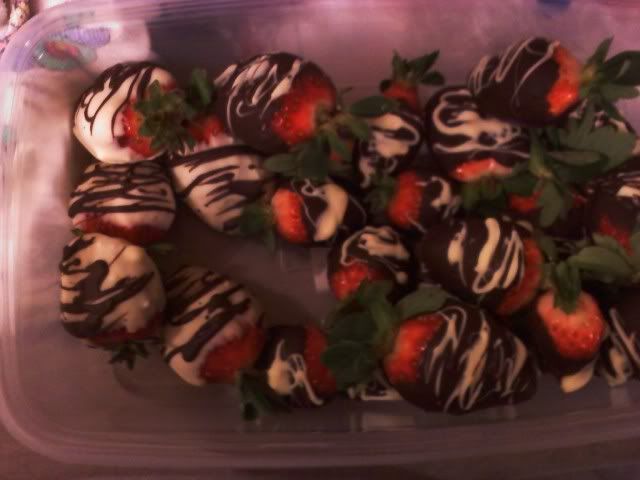 Hope everyone had a wonderful Valentine's Day! 
Thanks for watching
Mrs. SOB-QTV